This is valid news.
1. I am nearly incapable of completing the task in an acceptable fashion. I'm really awful at it, particularly my left hand, and especially in dark colors. Have I mentioned that my favorite nail colors are dark red and dark purple? Not pretty. I am girly in many ways, but I can't paint my nails and I can't French braid. There, now you know my deepest darkest secrets.
2. I typically leave nail painting to professionals. As stated in #1, I am not to be trusted. I buy nail polish all the time (always red or purple, mind you) but when I want my nails to actually look nice, I spring for a mani and be done with it. Alas, my no shopping/frivolous spending thing for Lent means manis are now a sometimes treat.
3. My nails look awesome. It is now Wednesday, three days after the home-manicure occurred. My nails still look good.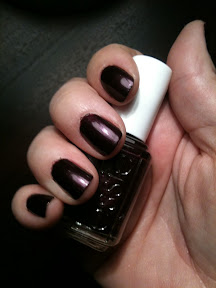 Seriously, the manicure tutorial from
Mrs MaryJane
has redeemed my Girl Card for me. I am one re-application of top coat away from shiny polish heaven.
Seriously, go paint your nails. Thank me later.