I look forward to
St Louis Magazine
's best restaurants edition every year. We really enjoy going out and trying new places, and the culinary scene in the area has been getting better and better in recent years. Right before I moved here, a friend of mine complained that St Louis had no good places to eat, and I don't think the comment could be further from the truth!
On a budget:
Cafe Osage
Local Harvest Cafe
The Fountain on Locust
Try the dill pickle soup!
Taqueria Durango
Shu Feng
Pearl Cafe
On a first date:
Santuaria
Pi
Mosaic Modern Fusion
Mai Lee
Siete Luminarias
Robust
Milagro Modern Mexican
Salt
Bridge Tap House and Wine Bar
Winslow's Home
Trattoria Marcella
Farmhaus
amazing local food!
One 19 North Tapas and Wine Bar
Coastal Bistro
Three Sixty
Cleveland-Health
Vino Nadoz
Pappy's
On a third date:
Dressel's Pub
Vin de Set
the best view and some of the best martinis in town
The Tavern Kitchen and Bar
Harvest
Scape
Brasserie by Niche
Oceano Bistro
Balaban's Wine Cellar and Tapas Bar
Paul Manno's
random location, excellent Italian
Peel Wood Fired Pizzas
I Fratellini
Five Bistro/
Riverbend Restaurant and Bar
On a Special Occasion:
Cielo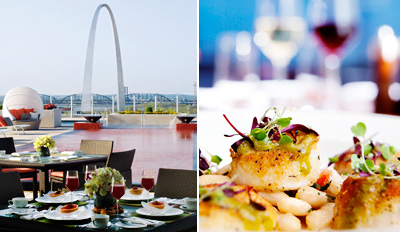 Perfect for a post-wedding mini-moon
Truffles
The Crossing
Niche
Atlas Restaurant
Herbie's Vintage 72
Sidney Street Cafe
Tony's
Stone Soup Cottage
Annie Gunn's
Water Street
Top Sandwich Shops:
Carl's Drive In
Fozzie's Sandwich Emporium
Blues City Deli
Woofies
Adrianna's
Restaurant of the Year:
Home Wine Kitchen
Once again, the list has made me realize how few of these places we have tried! We have some dining out to do!
{all photos via google images}